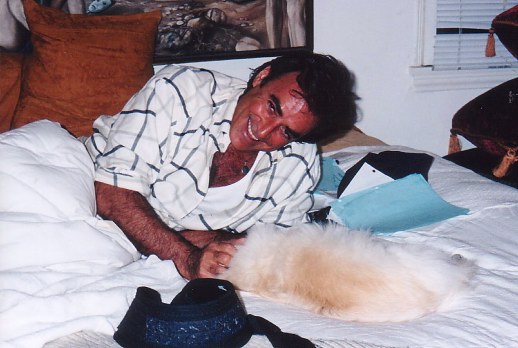 Thaao Penghlis' brooding good looks come from his Greek heritage, but he is from Sydney, Australia, where he was born on December 15.
Unlike most actors, he did not originally plan to go into show business; he was primarily interested in history and art, and planned to be an archaeologist.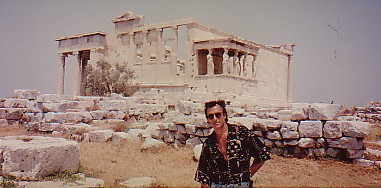 Instead, he became a young career diplomat, working with the immigration service to help Greek immigrants who were seeking Australian citizenship. He trained for three years to become the vice-consul to Greece, but gradually realised that his whole life centered around Greek happenings, so he took a leave of absence and went to work for the United Nations in new York.
While he was in New York, he met a teacher and director, Milton Katselas, who inspired him to pursue an acting career. He quit his job at the UN, worked as an apprentice antique dealer during the day (specializing in eighteenth-century and Chinese art), and studied acting at night.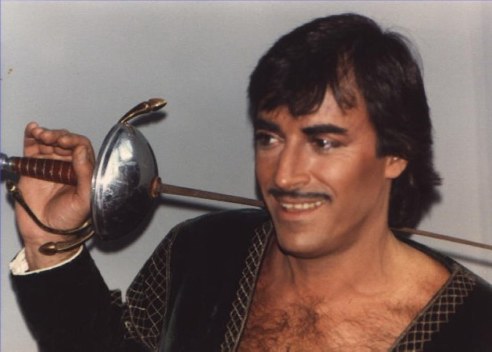 Thaao as Errol Flynn
Eventually he worked as an assistant to Katselas in New York. When Katselas moved to Los Angeles to set up his studio and school at the Beverly Hills Playhouse, Thaao went too and helped direct a number of plays. He appeared in other productions in Los Angeles and around the country, and finally landed the part in Ken Russell's Altered States with William Hurt. He was also in episodes of Nero Wolf, Hart to Hart, Moviola and several TV films.
After six years of carefully building his career, Thaao took the part of Victor Cassadine on General Hospital, where he gathered such a strong following that ABC received twenty-five hundred letters asking that they bring him back after his story line came to an end. Before ABC was able to do that, NBC offered him the part of Count Anthony DiMera on Days Of Our Lives and that role kept him on the popularity charts.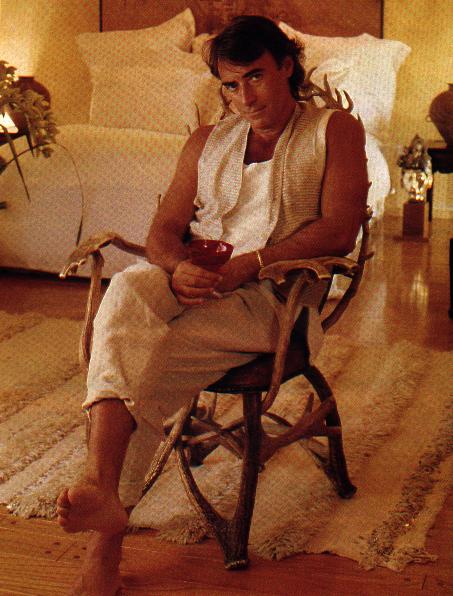 When I left home, I had to lie and tell my family it would be for a month, and even they thought I was a black sheep, a loser. I come from a very conservative Greek family - one which doesn't believe in breaking tradition. I had two hundred dollars in my pocket, but I knew I would have to make it on my own, because my drive was tremendous. I had to prove that I would make something of myself, and to do that I had to release all those regimented ideas I'd been taught about how life should be and learn a whole different set of values.
As a Greek, my sense of family tradition is very strong. When I was young, I resented it because I didn't understand it. It was very regimented, which went against my nature. But now, as an actor, I'm discovering how much it helps me, how much solidity it has given me. My outlook is different because of the traditions. Acting is tradition. To explore a character, you need to know where that character comes from. Now I realise how enriched I was by all the resources I had growing up.
A lot of people have a tendency to shortchange themselves, because they're told they aren't good enough as they're growing up. In this country especially, people have a very narrow idea of art and the world outside themselves. I was fortunate to have wonderful mentors who always told me there was more, outside of myself and outside of my family. Then, when I moved to New York, I studied Chinese and eighteenth-century art, and was surrounded by the greatest collection of Southeast Asian sculpture and Ming furniture in America. When you are in that kind of surrounding, when you've worked at the UN or the consulate, there is a tendency to know there is more to life.
My family also allowed me the grace of being a man without restricting my emotions. They allowed me to express myself completely. They never forced me to shut myself off, or to hide what I was feeling. If I felt like crying, I could do that. I was never told that it wasn't masculine. That was a wonderful experience for me, and has affected my acting a great deal - allowing that humanness to come through. That was one of the best educations that I got. I learned attitude, and that is a very important factor in your life as well as your work. I learned to respect my parents, my uncles. I learned how children are supposed to be treated. That somehow gave me a sense of how every character is different and must be responded to differently in my work.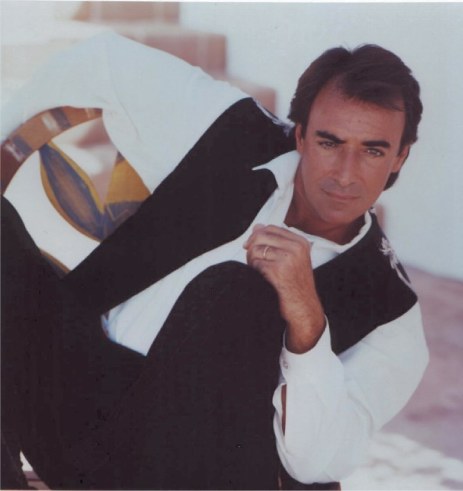 That's the great value I find in being an actor. The psychological factor - the amount of people I have within myself. In order for me to reach those depths of characters in my work, I had to learn to take the walls down - the ones that we all build as we grow up, to protect ourselves. As painful as it was putting them up, it was more painful taking them down, but it was interesting, and tremendously valuable.
One of the walls I constructed was to allow people to believe I came from a wealthy family. My father was a labourer and my mother was a teacher, and I used to hide that fact. People always thought I was wealthy, because of my appearance and attitude, and I encouraged them to believe that. I guess, in a way, I started acting at a very young age, although I didn't realise it at the time, because I felt I had to hide the fact we were so poor. That wasn't hard to do because whatever money my mother put aside was used to dress me, since I was the oldest son, and so I looked better off than I really was.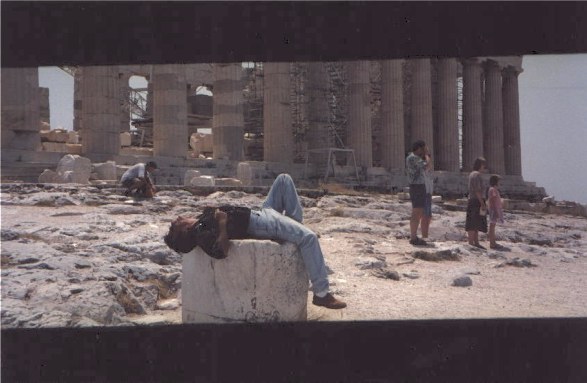 Thaao at The Acropolis - 1985
Ironically, my uncle traced our family back and it turned out that about three or four hundred years ago we were almost a princely family, so maybe all the arrogance I've displayed in the past isn't only a cover for insecurity. When I went to Athens and the clerk said, "Penghlis. Are you from the Penghlis family?" it was a tremendous pleasure.
When I was a child, I used to ask my father, "Why is Grandma's nose so enormous?" He said it was because we came from such a high breed of Greek, and that my grandmother believed it so much she kept her head very high and her nose grew.
She was naturally aristocratic. You'd never run into her arms; you'd greet her with a kiss on the cheek. You would never dare misbehave in front of her. By comparison, my mother is very down to earth with her grandchildren. She's a doer, and a tremendous giver.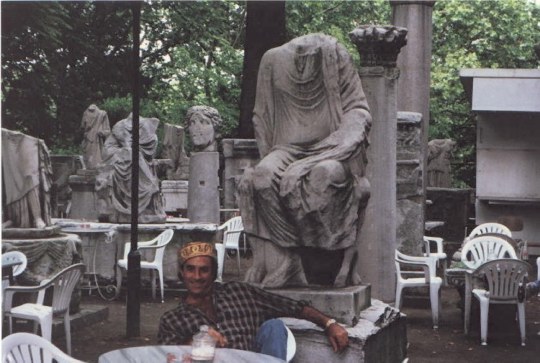 Museum - Istanbul
When I was home last, she kept looking over at me. I asked her what the matter was, and she said, "I can't believe you're my son." I asked her what she meant, and she said, "Look around." I did, and saw the different relatives, how they were all a bit lazy and set in their posture and approach to life. My brother tells me that they have conversations around the table. My mother will say, "Where does he come from, this one? He's different from all of us. He left at such a young age, with very little money, and look how far he's gone. Where did that come from?" My father will say, "He's a Penghlis." My mother will say, no, it's from her side of the family, and then they have an argument. It's funny because here I am the son who they were afraid would ruin the family name. I was the one who was always different. I was the most criticised, the most outspoken. I took the most chances.
Now, they're very proud of me. I went home for Christmas a couple of years ago and it was overwhelming. After the initial emotional welcome at the airport, it was like I had never been gone. That's how strong the bond is. And the nice part is that now I can sit back and really appreciate them all. I am fortunate that I have such a great family.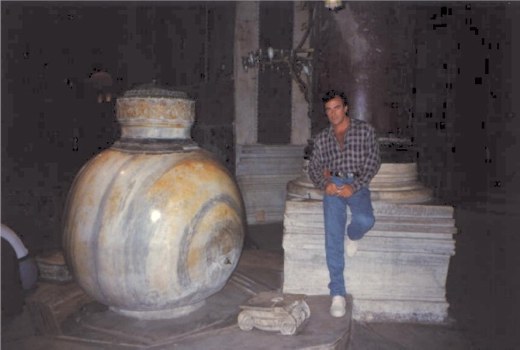 St. Sophia Church
They feel the same way about me. While I was there, we invited the whole family over to see tapes of what I've been doing. When it was all over, I could see that my uncles were very proud, and my father turned to me and said, "Isn't it something. I have spent years trying to find something that would give me the importance of why I'm here, and tonight I found it." I understood then that they now acknowledge me in a different way, that they have dropped the judgement that they had made of me in the past.
I realised that I had contributed to their lives much more than if I had stayed at home. I broke the mold. I showed that there was another life, that I could survive outside the Greek thing.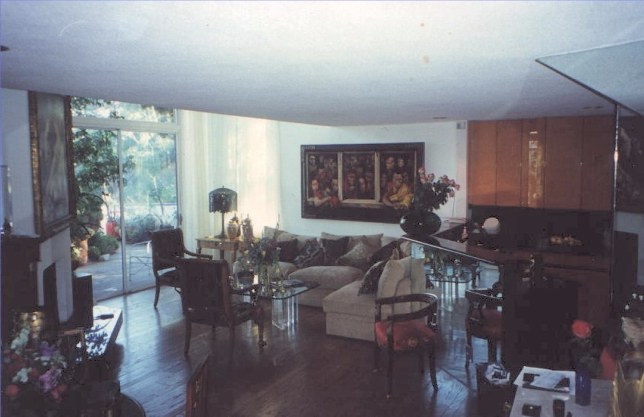 Thaao's previous home
I had gone there because my father had been very ill, and I had this tremendous fear that while I was living in America he would pass away and I would have to live with that for the rest of my life. I was so glad I went. I finally got to understand what my father's struggle was all about. It took me a long time. I had a whole new appreciation of my relationship with him. I loved him like I had never done before. He accomplished so much. He brought four children into this world, which is a great accomplishment when you think of how well he raised them. And now he is so proud that his son did something that none of the others did.
The day before Christmas, I got up at 6am to get the Christmas tree ready. They were used to a three-foot tree, so I found an eight-foot tree and decorated it with two hundred dollars worth of decorations. They had never seen such a thing.
Everyone else was still asleep. I gave my parents their present - a cheque. They opened it, and my mother was beaming, but my father stopped smiling. I asked him what the matter was, and he said, "I've never held so much money in my hand that was mine". I had never understood so clearly how much he had gone through, how much he had struggled. He sacrificed his ambitions so that his children could survive in a new country. He gave so much of himself. It was a very moving moment for me, to fully realise that.
| | | |
| --- | --- | --- |
| | A few of Thaao's artifacts | |

Movies include:-
Slow Dancing In The Big City (1978)
The Bell Jar (1979)
Altered States (1980)
Sadat (1983)
* Days of Our Lives: Antony DiMera (1981-1985, 1993-1995, 2002-present)/Andre DiMera (1983-1984, 1995)
* General Hospital: Victor Cassadine (1981)
* Moon Over Miami: playing "Mr. Rose" in episode: "Pilot" (episode # 1.1) 15 September 1993
* Who's the Boss?: playing "Armando Shia" in episode: "Older Than Springtime" (episode # 3.20) 3 March 1987
* Magnum, P.I.: playing "Phillipe Fabre Dumout" in episode: "All Thieves on Deck" (episode # 6.14) 30 November 1986
* Hotel: playing "Eduardo Valli" in episode: "Promises" (episode # 2.10) 9 January 1985
* Nero Wolfe: in episode: "What Happened to April?" (episode # 1.9) 20 March 1981
* Hart to Hart: playing "Assad" in episode: "Murder Wrap" (episode # 2.6) 6 January 1981
* Tenspeed and Brown Shoe: in episode: "Diamonds Aren't Forever" (episode # 1.14) 1980
* Cannon: playing "Prince Hassan" in episode: "The Games Children Play" (episode # 5.15) 17 December 1975
* Kojak: playing "Yanni Psalidas" in episode: "Night of the Piraeus" (episode # 2.19) 26 January 1975
* Hawkins: playing "Assistant Manager" in episode: "Murder in Movieland" (episode # 1.2) 2 October 1973
* Santa Barbara: Micah De Angelis (1992-1993)
Notable TV Appearances:-
Mission Impossible (the remake (1988-1990)
Thaao has also had guest appearances in 'Who's The Boss','Magnum PI', 'Tenspeed And Brown Shoe' in the early 80's, and 'Cannon' and 'Hart to Hart' in the 70's, but is more recognised for his role in 'General Hospital', playing the part of Victor Cassadine (1981), 'Santa Barbara', playing Micah De Angelis (1992-1993) and of course most recently, after a 6 year absence in 'Days Of Our Lives' as Tony DiMera (1981-1986,1993-1996, 2002 -)/ Andre DiMera (1983-1984). Also in 1999 Thaao did an interview on
'The Bert Show', here are some photo's from this.